Participating in the Safely Embodied Online Community has opened my heart to the safety and the nurturing, challenging and ultimately unconditional supportive community of these other souls whose journeys have been my own.

I am now more willing to take risks with my sense of self and my future and I feel closer to integrating the pain of the past with the stilled and breathable present.

The SEOC has meant that I am healing. Amongst such caring, loving, and willing to be vulnerable people, I will keep healing.

— (SEOC member)

Hello Deirdre,

I love what you are doing! I love to hear from you and how you are approaching life and your words of wisdom! Thank-you.

I am using your "Becoming Safely Embodied Skills Manual" in my group and I am getting more from it that I did with the first time round. I am more comfortable with the information and more confident in using it. It is beautiful!

I love recommending your book. You are a gift to all who come into contact with you.

— Mona Sternberg
Therapist, Great Falls, Montana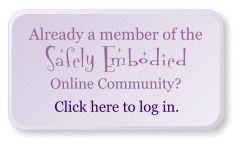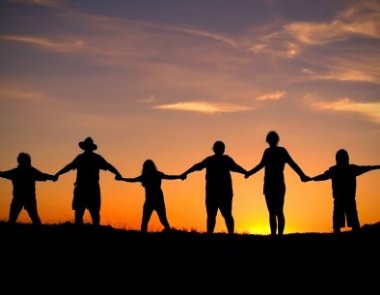 That's one of the dreams all of us who have had a painful history have.

We all want to belong to something, some place, we want to belong to people who see the best in us.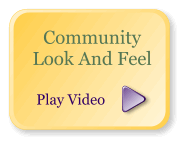 Welcome to the
Designed specifically for the people who are in the midst of their healing process and want to move out of isolation and fear
The Safely Embodied Online Community is for you if you know you want to
find new ways to deal with your history
have contact with people who understand you 24 hours a day, 7 days a week
befriend your past
free yourself from overwhelm, being triggered, and not understanding why life is happening the way it is
All this for just pennies a day!
The SEOC is
$19.95 a month
which comes out to about
66 cents a day
.
Itís even less if you pay for 3 or 12 months in advance:
3 months - $55.00
/quarter (
save $4.85
)
Yearly - $199.50
/year (
2 months free - save $39.90
)
Welcome!
We'd love to have you

in the Safely Embodied Online Community (SEOC)
I developed the SEOC to support people who are in the middle of healing their history to feel known and understood, to feel less alone - and to learn how to shift from being in a state of overwhelm and disconnection into a world of possibility, a world where healing and freedom are the norm.
A full, successful, satisfying life where you feel calm, relaxed, nurtured and alive is actually within your reach - even with a history of complication and trauma. In fact, I believe that your difficult history is the cauldron in which you come to fulfill your life purpose. It's been my experience, with myself, and with thousands of people, that our histories actually provide the blueprint for the healing journey.
Your task, in healing your history, is to learn to trust your own path, to stand at the opening of the dark woods, not knowing what is inside, unable to see the way.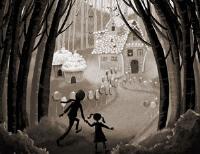 In many ways, each of our journeys is like the story of Hansel and Gretel. We have to go into the dark woods, not knowing where anything is. We put down some breadcrumbs marking our way into this deep unknown.
Trust your own path. Your way through may not look like someone else's but what is absolutely true is there is a way through.
Part of how we find our way is through a kind of internal Braille exploration. We literally have to feel our way, moving inch by inch, sometimes making the wrong turn but always finding our way back. The path might not be clearly marked but without question - there is a way through.
Being part of the SEOC is a way to be with people who understand exactly what this is like.
If this resonates with you then we'd love for you to

in the

It's a discussion board available to you seven days a week, 24 hours a day.
People log on using either a user name or their own name (anonymity is important to us if it is to you.) You can post a photo to use as an icon, or avatar. It can be a picture of yourself, or it could be a picture of a pet, or an item that is important to you. It's all a way to make the SEOC your own.
Learning how to belong happens in part by introducing yourself not as a person with a complicated history but as someone who belongs to this world in unique and wondrous ways. For many, remembering how important life is can be one of the important skills you'll learn. Your profile section will be a specific location for you to post about things that are special to you, artifacts, images, stories, poems that mean a lot to you and that help express your hope for healing and connection.
You have access to reading posts as much as you want, posting yourself about topics that are important to you or responding to others whose topics resonate with what you are going through. You'll see that the people who join the SEOC find community and connection important.
Members of the SEOC have found that by helping others, talking through situations, listening deeply to others helps pay it forward. You might find that some topics don't resonate with you at this point. Later on you might recall something you read in the forum and it might then make a world of difference. It's funny how those things work.
I've found that most people who have been hurt by their life circumstances have not been surrounded by an uplifting, encouraging, caring community of people to whom to belong. In the SEOC we practice celebrating each other , acknowledging each other, offering helpful support and feedback.
Each month I will have a Question and Answer conference that you will be welcome to join. If you can't be on the call in person, the calls will be recorded and archived so you can listen when you have time.
You'll each be able to create your own confidential blog, open only to the other members of the membership site. Your own personal blog can be a place to explore your healing, think about what works and what doesn't, address issues vital to you, and be a possible source of inspiration to others.
Each month I'll post a personal communication highlighting a community practice that we can all engage that will encourage and promote your healing. Not all practices will be ones that will be ideal. What I have found, though, is that if you try different approaches you will find some that work really well. You will deepen through those various practices. Having a supportive community in which you connect with each other about what works and what is a challenge makes a big difference both in the short term and in the long run.
I was recently at a conference with the Dalai Lama on psychotherapy and meditation. He stressed the importance of finding a practice that becomes familiar and comfortable. I want you to have access to a community where healing and a fulfilling and satisfying life is what feels normal and natural. That will come as you practice challenging yourself in a safe environment.
Being a part of the SEOC will combine to transform the way you think, feel, and support positive actions in the world. Knowing you're cared for, loved, and deeply believed in will help create the solid ground under your feet, preparing you to take the steps necessary to move in the world in less familiar ways.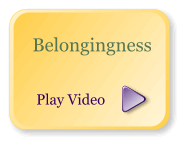 But I'm not just providing a "feel good" space!
I know that's not the only thing that will make a difference.
Being a member will give you practical, life-changing information, not just from me, but from others who are traveling the same path. You'll have access to this practical support on a daily basis making sure you can get the results that you want!
We want you to

in the

if you are:
Committed to learning your own way, your own path to healing while connected to a community of others
Dedicated to slowing down and listening to your own internal world, learning to listen to what feels right to you despite what others have told you
Willing to listen to others and are tolerate of others ways of healing. The Safely Embodied Online Community is founded on the principle that in changing ourselves inside and taking responsibility for our interaction with the world we can slowly and steadily create a better place to live.
if you agree with us that there is no one right way to heal - everyone's journey is unique and different although there are many similarities. We believe in valuing and honoring each person's path even if it doesn't look like ours. We're not interested in creating cookie cutter approaches to healing. We're more interested in celebrating your own unique approach.
Are open to using the language of "parts" in talking about the variety of internal experiences that come with healing trauma and attachment The practice of speaking for parts can be a valuable asset in becoming cohesive and strong.
Are interested in practicing kindness and generosity of spirit
Like to see the best in others - and have them do the same with you!
Can practice using 'I' statements in your communication
If that feels like you and you resonate with this please

! We're so looking forward to having people like you to enrich our already nurturing and supportive community.
One thing to make absolutely clear is that this is not psychotherapy.
Joining the

is not a substitute for psychotherapy
, nor is it in any way does it make you a client of Deirdre Fay or any other member of the SEOC team. If at any point you feel in need of more individual support it would be important for you to have your own individual therapist or individual support team. The SEOC cannot be that for you not will the SEOC provide that service.
What we are is a psycho-educational support community built on important and vital principles that have helped encourage and motivate many on their healing path.
You're welcome to be a part of that.
This is NOT a place to promote any product, service, or to in any way sabotage any other members healing. If there is any HINT of that you will be put on immediate probation. If any disturbing behavior continues you will be barred from the site. There will be no discussion about that. I have found that this kind of behavior is rare but I want it clear, for the safety of all members, that undermining healing will not be tolerated.
Ready to Join?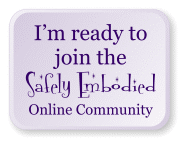 Here's the process. Because we hold safety as vitally important, we don't have an option to just pop into the forum and participate when you feel like it. Well, you can do that if you are a member! The reason we decided to make it a membership forum was to ensure the safety for members.
I hope this doesn't sound rude, but we want to be careful to protect the integrity and the individuals who have trusted us with their healing. Developing a safe haven for the community to function in is critical. Protecting the members is essential. After many hours of deliberation and after listening to members of the beta-testing forum here's what we decided to do:
1. If you click on the I'm Ready to Join! button above then you will be sent to a page where you will be asked to choose your subscription package (Monthly, Quarterly or Yearly). You'll then be sent to a form to fill out your information (name, address, phone, email - all of which is held absolutely confidential)

2. We'll also ask you for a Username that will become your "handle" for the forum. You can either use your own name or use some descriptive terms that speaks to the healing path you are on

3. At that time we'll also send you a Welcome to the Community Questionnaire which will ask you some basic questions about your path and the healing you've been on. There isn't any right answer to any question - and there isn't any way to do it wrong. The reason we're asking these questions is to get to know you a bit so that we can be more aware of you in either of the sites you join.

Probably the most important reason we are asking people to fill out the questionnaire, though, is to screen for unwanted people, people, or cyber robots who are bent on doing harm without thought of the consequences. We figured that if someone was intending harm they would not be interested in taking the time to fill out a simple questionnaire. There's no right answer, no way to respond incorrectly. . So please do not worry about this step-it's ultimately for your safety and support. If you feel worried about it in any way, contact me and let me know your concerns. I'll find a way to support you in joining.

4. We'll ask you for your credit card information to process the monthly billing for the SEOC.

Because of all this, we will be processing the bulk of the application by hand. The downside of this is that it will take 24-48 hours to process your application and return the link to the site to you. I'm really sorry about this. My team and I have talked about other ways to do this and tried to find a way that would make it simple and easy, but frankly, as I put the safety of the members above all else, we just couldn't find a better way.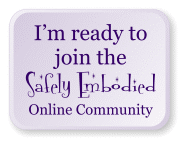 I'm always open to constructive feedback, though! If you can think of better ways to do this, please drop me a note.
I do hope if it's right for you to join us that you do
I look forward to seeing you in the


Warmly,
Deirdre