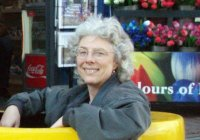 Call with Joanne Twombly
The ABC's of DDs (Dissociative Disorders)
Although the live call has passed, you can still purchase the audio and handouts for the call. Follow the purchase instructions below, and you will be sent the link to the downloads.
Note from Deirdre:
We are extremely lucky to have Joanne Twombly be willing and able to come join us for a call. After the Working With Parts Teleseminar series I realized from many of your questions that there were still some questions about what dissociation is and how life is affected when there is dissociation. I asked Joanne Twombly, an expert in the area of dissociation, if she could find some time to give us a talk She's willing; and June 18th is the day!
I've known Joanne for over 10 years. Her thoughtful ways of working with dissociation has taught me a great deal over the years and my clients have benefited from all that I've learned from her. Joanne's guidance is always wise and yet easy to implement. She understands the variety of experiences people have. In being on the call you will not only learn a lot but feel understood and heard.
---
The ABC's of DDs (Dissociative Disorders)
Join Joanne Twombly as she offers us a user friendly approach to understanding the how's, why's, and what now of dissociative disorders.
Here's what Joanne told me she'd like to cover:
Many of the people I work with come to see me after working with one or more other therapists, having worked very hard, and not gotten better. They often feel like treatment failures, and the therapists they've worked with have also had a range of feelings including frustration and confusion.
In this short call, I will discuss some of the signs and symptoms I look for when assessing someone for a dissociative disorder, and then will discuss the overall treatment process including: evolving dissociative symptoms into coping skills to help with managing daily life, symptoms, stabilization and eventually with processing traumatic material. Case examples will be given, and although there won't be time for individual therapy or consultation we will have time for questions and answers.
The call will be recorded for anyone who can't be present for it. To submit any questions ahead of time use this simple survey form which makes it easier for me to make sure I have all the questions in one spot to hand on to Joanne!
http://www.surveymonkey.com/s/JZKPRJB
---
Joanne H. Twombly, LICSW, MSW is a clinical social worker in private practice in Waltham, Massachusetts. Her interest in healing her clients has led her to become a Certified Consultant with the American Society of Clinical Hypnosis, an EMDR International Society Approved Consultant, and to develop expertise in Internal Family Systems (IFS). She also does individual and group consultation on EMDR, IFS and treatment of dissociative clients, has presented widely on dissociative disorders and complex PTSD, and is the author of several chapters and articles. She is a past director on the Executive Council of the International Society for the Treatment of Trauma and Dissociation, and a past president of the New England Society for the Treatment of Trauma and Dissociation.